This page is on the internet at: http://danrasmussen.org/portfolio/
Website Portfolio
This page contains selected works, not everything I've done. My resume has more information on the context of some of these websites.
I believe web sites should work well and look great regardless of how they're viewed. They should look nice not only on a desktop computer, but also on laptops, mobile phones, iPads and even printed on paper. I'm particularly interested in working on community and local government websites. Government websites are particularly important because information they contain is needed by so many people -- people who use vastly differing hardware and software to use the internet. Having a website that is usable is a good minimum requirement, but having a well-organized website is much better. I'm good at enabling people to easily find what they want.
I have a soft spot for small businesses. Many small firms specialize in cranking out websites for small businesses. They may have fancy graphics, but often make it hard for viewers - potential customers! - to find the most basic information such as maps and business hours. In addition, your website address should be memorable and show up in search engines. I make that happen, too.
---
Portland, Oregon Wifi Map

pdxwifimap.com is my most recent website. It's
a map of free and open wifi in Portland, Oregon
. It began as a visualization of volunteer work I was doing for a Portland group. I'm working to create a community around the
PDX Wifi Map
and turn it into something bigger.
---
danrasmussen.org
danrasmussen.org is my flagship website. I maintain it as an example of current website construction best practices. I often use it to make use of concepts I've learned, and test new ideas. Did you notice my
geo-resume
? What about the
stylesheet switcher
?
---
The Personal Telco Project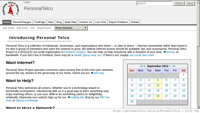 After several months working with this volunteer group, I wanted to make it easier for the group to attract new volunteers and carry out their mission. I did this by transforming the wordy, neglected, and highly-technical homepage into something that could be understood by ordinary people. This followed weeks of behind-the-scenes website improments. Their website is a wiki, so I didn't so much "design" this site as rewrite it. You can see both
my homepage rewrite
and the
current homepage
- which may have been changed by somebody else in the meantime.
---
Fallon For Governor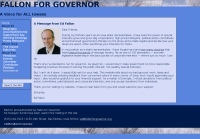 Starting at the tail end of 2004 I served as Ed Fallon's campaign webmaster. They already had a website, but it had numerous problems: hard to navigate, unattractive, required JavaScript to access menus, no way to donate online, etc. I worked part-time (I was a full-time university student) redesigning the site for several months, bringing a much improved version of fallonforgovernor.org live in time for Ed's announcement rally in April 2005.
Page last updated: April 28, 2014.
This page is on the internet at: http://danrasmussen.org/portfolio/